Product Features
(1) High Temperature Resistance: the maximum sustained working temperature is up to 70 Degrees Celsius, the maximum transient temperature is up to 95 Degrees Celsius.
(2) Heat Preservation: low thermal conductivity which is only 1/1500 of brass pipe, and 1/250 of steel pipe. Non-toxic: no heavy metal additives would not be covered with dirty or contaminated by bacterium.
(3) Corrosion Resistant: resist chemical matters or electron chemical corrosion.
(4) Lower Installation Costs: light weight and ease of installation can reduce installation costs by as much as 50% over metal piping system.
(5) Higher Flow Capacity: smooth interior walls result in lower pressure loss and higher volume than metal pipes.
(6) Long Life: more than 50 years under normal conditions.
(7) Recycled and Environment-friendly.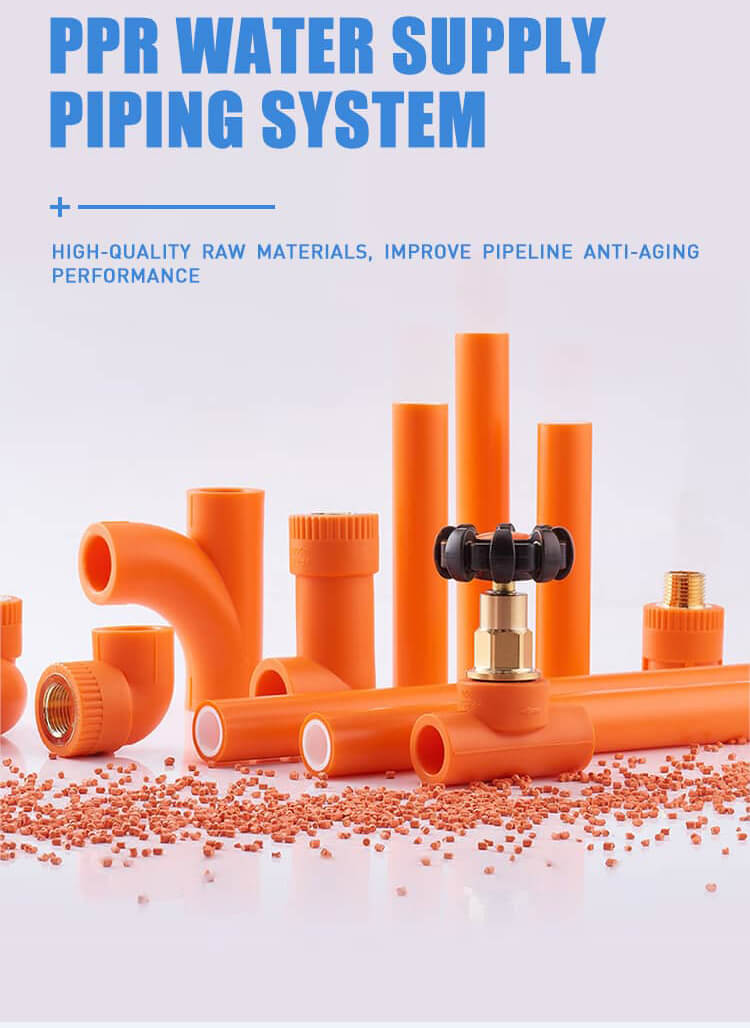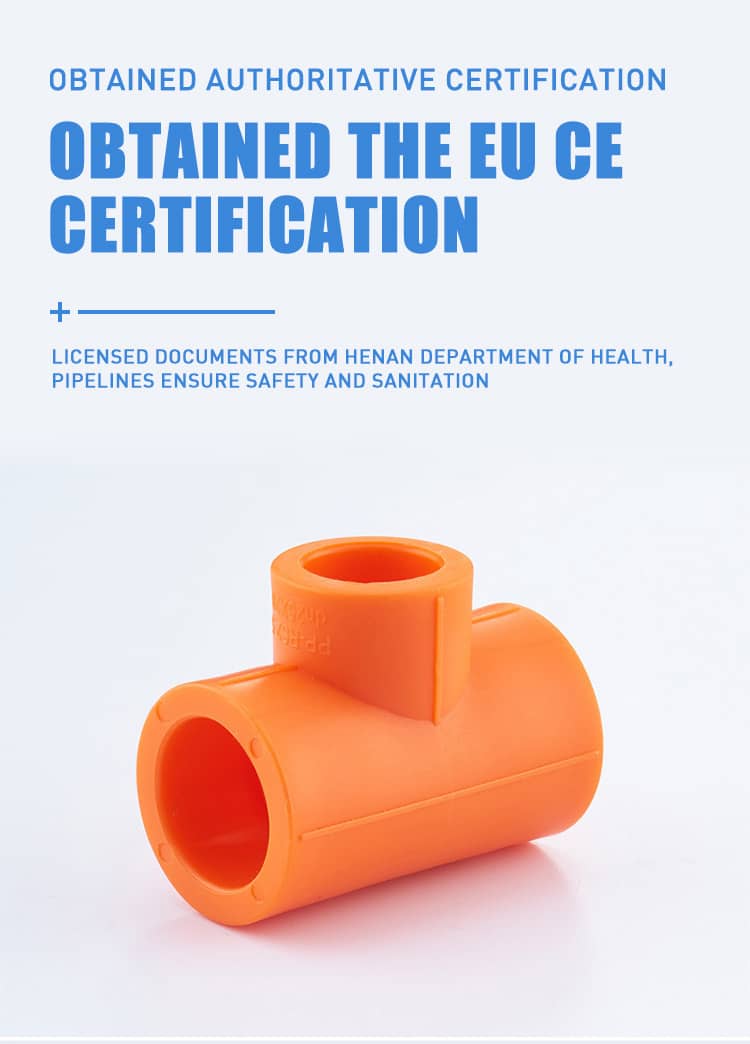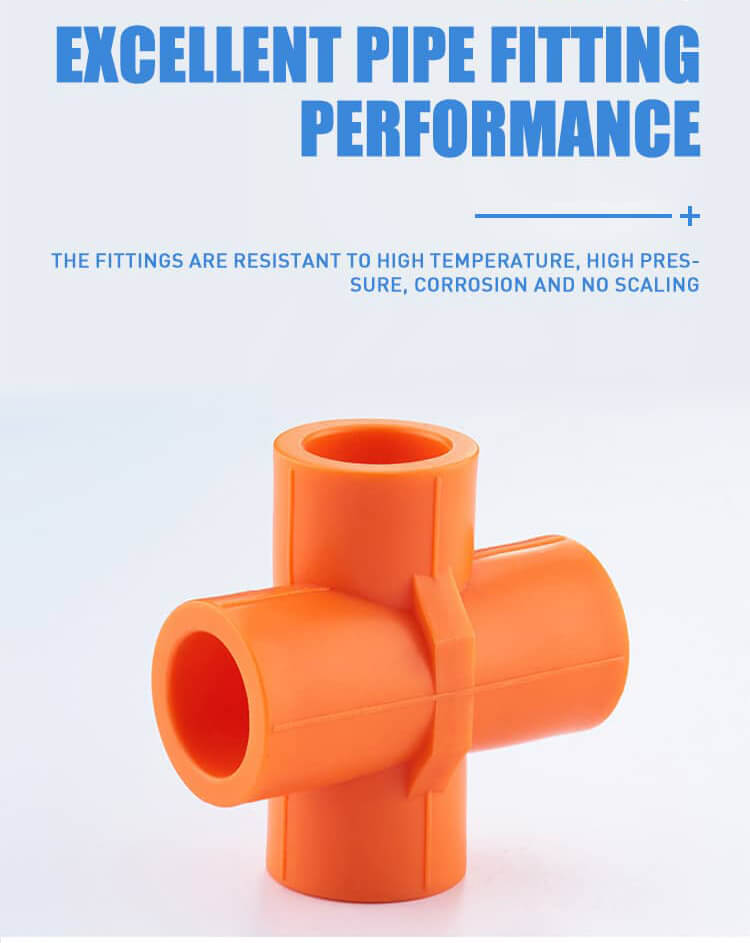 Product Parameters
| | |
| --- | --- |
| Items | ppr reducing tee |
| material | polypropylene random |
| size | 25×20 – 110×90 mm |
| color | white,green,gray |
| connection | hot melting |
| pressure | 1.25MPa,1.6MPa,2.0MPa,2.5MPa |
| standard | DIN8077, DIN8078 ,ISO15874 |
| Certification | ISO14001,OHSAS18001,ISO9001,CE,GOST |
| | | | | |
| --- | --- | --- | --- | --- |
| SPECIFICATION (INCH) | SPECIFICATION (MM) | D | L | Z |
| 3/4″ x 1/2″ | 25 x 20 | 34.8 | 30.5 | 18.5 |
| 1″ x 1/2″ | 32 x 20 | 42.2 | 32.5 | 20.5 |
| 1″ x 3/4″ | 32 x 25 | 42.2 | 34.5 | 20.5 |
| 1 1/4″ x 1/2″ | 40 x 20 | 52.5 | 34.5 | 22.5 |
| 1 1/4″ x 3/4″ | 40 x 25 | 52.5 | 36.5 | 22.5 |
| 1 1/4″ x 1″ | 40 x 32 | 52.5 | 39.5 | 22.5 |
| 1 1/2″ x 1/2″ | 50 x 20 | 65.3 | 37.5 | 25.5 |
| 1 1/2″ x 3/4″ | 50 x 25 | 65.3 | 39.5 | 25.5 |
| 1 1/2″ x 1″ | 50 x 32 | 65.3 | 39.5 | 25.5 |
| 1 1/2″ x 1 1/4″ | 50 x 40 | 65.3 | 47.5 | 25.5 |
| 1 1/4″ x 1/2″ | 63 x 20 | 83 | 41.5 | 29.5 |
| 1 1/4″ x 3/4″ | 63 x 25 | 83 | 43.5 | 29.5 |
| 1 1/4″ x 1″ | 63 x 32 | 83 | 47.5 | 29.5 |
| 1 1/4″ x 1 1/4″ | 63 x 40 | 83 | 51.5 | 29.5 |
| 1 1/4″ x 1 1/2″ | 63 x 50 | 83 | 56.5 | 32.5 |
| 2 1/2″ x 3/4″ | 75 x 25 | 100 | 48.5 | 32.5 |
| 2 1/2″ x 1″ | 75 x 32 | 100 | 50.5 | 32.5 |
| 2 1/2″ x 1 1/4″ | 75 x 40 | 100 | 53.5 | 32.5 |
| 2 1/2″ x 1 1/2″ | 75 x 50 | 100 | 58.05 | 32.5 |
| 2 1/2″ x 1 1/4″ | 75 x 63 | 100 | 64.5 | 36.5 |
| 3″ x 1 1/4″ | 90 x 40 | 118 | 57.5 | 36.5 |
| 3″ x 1 1/2″ | 90 x 50 | 118 | 62.5 | 36.5 |
| 3″ x 1 1/4″ | 90 x 63 | 118 | 69.5 | 36.5 |
| 3″ x 2 1/2″ | 90 x 75 | 118 | 75.5 | 36.5 |
| 4″ x 1 1/2″ | 110 x 50 | 145 | 70.5 | 43.5 |
| 4″ x 1 1/4″ | 110 x 63 | 145 | 76.5 | 43.5 |
| 4″ x 2 1/2″ | 110 x 75 | 145 | 82.5 | 43.5 |
| 4″ x 3″ | 110 x 90 | 145 | 90.5 | 43.5 |

Application
(1)Municipal water supply
(2)Commercial&Residential water supply
(3)Industrial Liquids transportation
(4)Sewage treatment