Product Features
1. Non-toxic, hygienic:
PE pipe fittings are non-toxic and odorless. After strict health monitoring, they are green building materials and never produce scale, which can effectively improve water quality.
2. Corrosion resistance:
PE is an inert material that is resistant to various chemical media.
3. PE pipe fittings are connected by electrofusion, and the interface strength is higher than the pipe itself.
4. High toughness:
The elongation at break of PE pipe fittings is generally above 500%. For the uneven settlement of the foundation, it has strong adaptability and good seismic performance.
5. Excellent resistance to rapid crack propagation (RCP).
6. Excellent flexibility and scratch resistance.
7. Good wear resistance, low wall friction coefficient, small flow resistance, strong conveying capacity.
8. Very convenient construction and installation.
9. Low system cost and reduced maintenance costs can greatly reduce project costs.
10. Long service life:
The buried PE pipe fittings are used normally for more than 70 years.
11. PE accessories can be reused, fully in line with the advocacy of efficient environmental protection.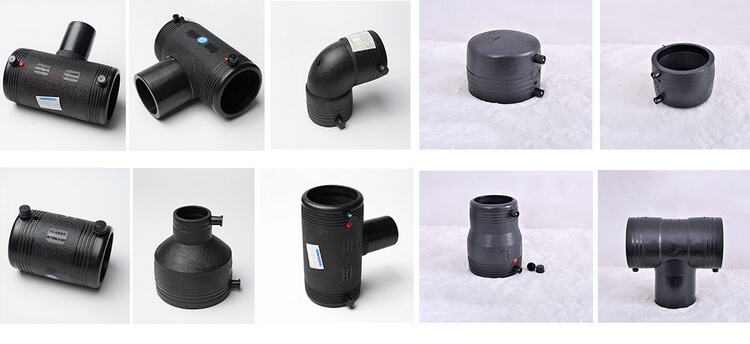 Product Parameters
Connection: Electrofusion
Certification: ISO9001-2008, CE
Application: Gas,Water,Oil etc
Standard: EN 12201-3:2011,EN 1555-3:2010
Material suppier: SINOPEC, BASELL, SABIC, BOROUGE etc
Norminal pressure: PN16
SDR: SDR11
Color: Black or as customized
Life span: 50 years
Size: 50-630mm

Application
1. Urban water pipe network system.
2. Replace cement pipe,cast iron pipe and steel pipe.
3. Industrial raw materials (chemical, chemical fiber,food,forestry, pharmaceutical, light industry, paper, metallurgy and other fields) pipe transportation.
4. Landscaping water supply network.
5. Wastewater discharge pipe.
6. Ores, slurry transportation.
7. Agricultural irrigation pipeline.